These days, good hygiene and sanitation are a priority when it comes to a building or facility. However, apart from that, the ambient and aesthetic design also play a vital role to the visitors and employees upon entering the building premises. We would always discuss the nice smell that greeted us in a retail store or the aesthetic design at the restaurant that gives us a good impression, but we hardly care if there is any proper floor care equipment placed in the public places. Our shoe soles may unknowingly carry various dirt, germs and even bacteria, and this is why having a proper floor mat placed at the public premises is equally important.
Building Entrance and Washbasin Area
Whether you are going to work, a holiday staycation or visiting a shopping mall during your day off, the first thing you may notice is the standard door mat at the entrance. No doubt that this is to minimise the potential of slipping hazards by absorbing the dirt and water from trailing into your building. But did you know that this is just one of the many benefits of having a floor mat at your premises?
According to The Centers for Disease Control and Prevention (CDC) study, viruses (such as E.coli) are living on your shoe soles and can be brought into your premises, spreading diseases to your employees, visitors, etc. With that being said, a disinfectant mat is crucial to place as the first line of defence before entering your building, through sanitising your shoe soles to effectively eliminate harmful germs or viruses.
Besides the entrance, the washbasin area is another frequently visited location. The higher the traffic, the probability of wetting the floor area tends to be higher, which potentially leads to slip, trip and fall incident risks.
Kitchen Area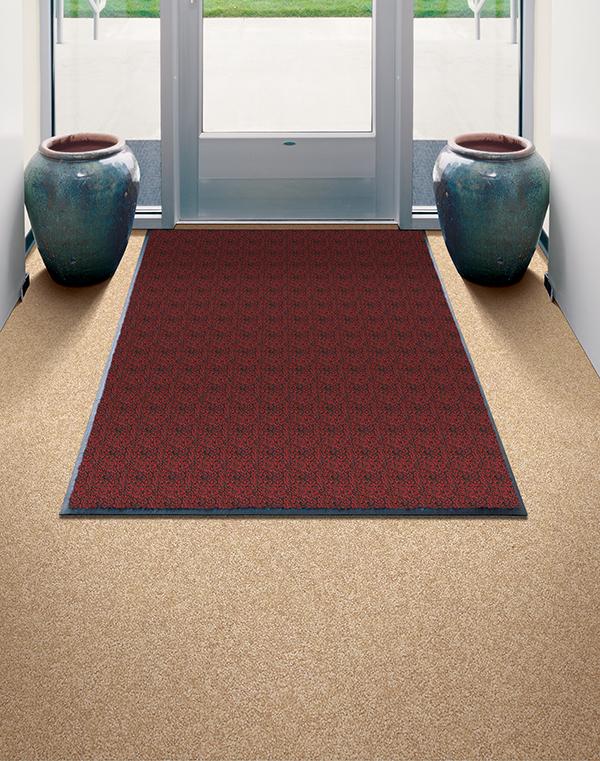 Kitchen especially the wet kitchen area, is also an area not to be missed. Food preparation may result in an oily or slippery floor, causing a hazard. This can be extremely dangerous when the chef works with sharp blades and hot food products.
Safety shoes should be mandatory for your kitchen staff. Besides, having a safety mat with drainage holes and integral antibacterial agents helps to keep your floor surfaces safe and dry, as well as prevention of bacteria growth in your kitchen.
Concierge Area
In your hotel or restaurant, a concierge assistant takes care of the guests by performing various tasks such as making restaurant reservations, booking hotels, arranging for hotel facilities services, etc. It can be very tiring for them to stand all day long to serve guests, especially during the holiday seasons.
In order for your employees to work with the maximum comfort, place a safety mat at the respective areas as the mat provides anti fatigue support. Not only does it help to boost morale among your employees, in the long run, it also helps to improve their performance as well as their work productivity.
In conclusion, choosing the right floor mat is important to minimise cross-contamination as well as slips, trips and falls while keeping the floor clean, which promotes your brand reputation. It is never too late to improve on good floorcare best practises to enhance your premises not just aesthetically but more importantly to protect everyone from hazard risks and minimise cross infections.
---
This content is provided by Rentokil Initial (M) Sdn Bhd.
Interested in having your announcements on Malaysiakini? Contact the announcements team at [email protected] or whatsapp on +60 17-323 0707 for urgent matters.