Twenty-five degrees makes for a ­miserably cold day, particularly by southwest Louisiana standards. But a frigid winter morning also can mean perfect redfish time for Capt. Tommy Pellegrin. "The line guides on the rods freeze up," says Pellegrin, who charters out of Houma, Louisiana. "It's brutal to have your fingers out cranking the reel. but one time, We caught 25 reds in 6 to 8 feet of water doing that. In the marsh, the dead of winter is probably one of the best times we have to catch redfish." Temperatures only ­occasionally get that cold in coastal Gulf of Mexico states, but even warm, bluebird ­winter days offer some of the best redfishing from Florida to Texas. Cold fronts, even when mild, concentrate fish in deeper, warmer holes. Later in the day, those redfish move into shallow waters warmed by the sun, allowing anglers to sight-fish and cast to tailers. To help you plan your own trip, we asked charter captains in each of the Gulf states to share their tips on targeting chilly-weather reds.
Florida West Coast
Capt. William ToneyHomosassahomosassainshorefishing.com
"Some of my best redfishing in the winter has happened after a prolonged cold front in December," says Capt. William Toney, who guides out of Homosassa on Florida's west coast. "Generally, the second or third day after a cold front, it seems like the bite gets better. And right before a cold front can be great too; it's just windy."
Advertisement
Homosassa features three spring-fed rivers: Crystal, Homosassa and Chassahowitzka. When air temperatures drop to the low 60s and, on rare occasions, the upper 50s from December through February, Toney heads to fish the deeper bends of the rivers or deep holes, where the water temperature remains a constant 72 degrees year-round.
Toney targets those pockets of warm river water on an outgoing tide with live shrimp. Anglers can usually expect at least some small, rat reds, but sometimes fish to 30 inches haunt these spots.
Toney tackles up with 10-pound PowerPro braided line on Shimano Ultegra 3000 reels paired to 7-foot, 6-inch, 8- to 14-pound G.Loomis E6X rods. He connects an 18-inch piece of 20-pound Seaguar fluorocarbon leader to the main line with a surgeon's knot. A quarter-ounce egg sinker slides on the leader, which is then tied to a 2/0 Eagle Claw Baitholder hook with a loop or Palomar knot.
Advertisement
As temperatures warm to the upper 60s and low 70s, Toney heads for the expansive flats just outside these river mouths. In depths of 2 to 3 feet, he finds plenty of slot-limit fish ranging from 20 to 26 inches. "If you feel warm in the river, the fish do too," he says. "I catch a lot of redfish during mild winter days on the flats. It's a lot of sight-casting."
Toney bounces the shallow ­bottom with a 3 ¾-inch MirrOlure Lil John ­plastic twitchbait hooked on a ⅛-ounce jig head, or he'll fish a DOA plastic shrimp. He attaches the lures with a loop knot to 20-pound fluorocarbon leader.
When fishing in the northerly winds that accompany cold fronts, Toney heads for tall mangrove-­forested keys that run east and west, which protect anglers from the blustery breezes. The south sides of those keys also feel the effects of the sun first, so he often finds redfish in warm spots over muddy or dark bottoms. "A lot of times the fish are pretty lethargic," he notes. "They'll ease over, and you can watch them pick up the bait. The colder water is crystal clear, and you can see the redfish eat."
Advertisement
Alabama
Capt. Ronnie DoyleOrange Beachanotherfishchartersorangebeach.com
Capt. Ronnie Doyle trailers his 24-foot Fishmaster north to protected bays and tidal rivers when cold fronts sweep across coastal Alabama. That's where he can find calmer water and good concentrations of redfish.
"The wind would have a lot to do with it," says Doyle, who fishes later in the morning on really cold days, when overnight temperatures have dipped into the low 40s. "Under normal circumstances, we go up in rivers and fish lures on small jig heads slowly along the bottom. That's generally where we fish all winter long. The redfish push out of the bays into the creeks and rivers.
Advertisement
"The Bon Secour River and the Fish River are the two main ones, but there are a lot of little creeks and rivers that we fish, as well as the Intracoastal Waterway. After we've had a good, hard freeze, we just go fish the holes in the creeks and rivers because that's where the redfish will be bunched up."
Doyle prefers a 3- or 4-inch Vudu shrimp or a Gulp! shrimp, which he says make an easy meal for sluggish redfish, ranging from 10 to 40 inches. He fishes the plastics on Shimano 4000-class ­spinning reels spooled with 10- or 12-pound monofilament and paired with 7-foot, medium-action Kunnan rods. He ties a 3-foot leader of 20-pound ­fluorocarbon to a swivel attached to the main line.
When fishing around stumps and grass in 2 to 3 feet of water, he attaches a clip-on floating cork below the swivel, adjusting the depth as needed. "If there are stumps and stuff where you're fishing, they're generally low enough that you can get the line above the structure. If you do break off, you've got a cork still attached to the line," Doyle says, noting that anglers can cast a heavy treble hook to snag the broken line and retrieve the redfish. "You can learn a lot too by watching the cork and seeing what the [hooked] fish does and where it goes."
Doyle also fishes artificials in holes that are 8 to 11 feet deep, and in pockets, where anglers need to make long casts. "I would much rather fish the stumps and grass," he notes, "just for the simple fact that I like to see the cork go under."
Mississippi
Capt. Sonny SchindlerBay St. Louisshorethingcharters.com
Depending on the weather conditions, Capt. Sonny Schindler fishes for reds either in his home waters or in St. Bernard Parish, Louisiana. On days with cold, brisk winds, he trailers his 26-foot Avenger bay boat to protected inshore Mississippi waters such as Bayou Caddy. On calmer winter days, he makes the 9-mile run across open water to Louisiana.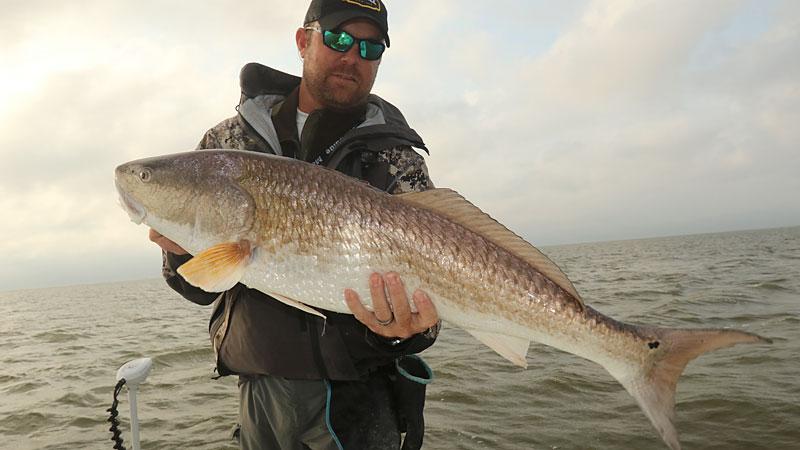 His go-to spots in Mississippi include what he calls broken shorelines with drains and a shell bottom, where he fishes the end of the ebb and the beginning of the flood—when fish are more accessible. "There are no guarantees, but that's pretty much as close to a guarantee as there's going to be for redfish," says Schindler, who catches reds in all sizes, from sublegal to bulls. "If there's mullet or shrimp flickering around, chances are you're in the right place.
"I would rather fish that super-low water than super-high water any day. If the water is up in the grass, all your bait and crabs and shrimp and minnows are all up in it," he explains. "On a calm day, when you see the grass moving, it's redfish. All you can really do is put out a popping cork rig, kiss the grass with it and leave it there, and hope the smell draws them out."
Schindler also prefers mild, calm winter days because he can go deep into the marsh and sight-fish with lures. On those days, "you can't keep up with them. You're fighting fish while others are zooming by the boat. And it doesn't matter what you throw."
Preferred baits include a big, live minnow on a quarter- or 3/8-ounce jig head. He fishes that on an Okuma Epixor 30 spinning reel and a 7-foot, medium-heavy Reflexions rod. He ties the jig head directly to 20-pound braided line, although he'll add a 1- to 2-foot piece of 20-pound fluorocarbon leader if the reds seem picky.
When he's lure-fishing, he uses Matrix Shad or Vortex Shad soft plastics in flashy colors such as chartreuse and pink. In addition to fishing those baits on jigs, he sometimes puts them on Strike King Redfish Magic ­spinnerbaits when drifting in murky water.
Louisiana
Capt. Tommy PellegrinHoumacustomchartersllc.com
Capt. Tommy Pellegrin says cold-front fishing concentrates the redfish. He reveals: "We actually prefer the colder days and the colder water. The north wind comes down here with cold fronts and blows the water out, which traps the redfish in deeper holes," about 4 to 12 feet.
Reds get really hungry when they're hovering in one location. "It's unbelievable the number of fish you can catch," he says. "It's almost like ­fishing in a barrel because these fish are stacked in those holes. If it warms up enough, where the water temperature gets above 55 degrees, they'll get out of the holes and go back in the marsh. They'll start cruising the banks, eating ­minnows and crabs."
Fishing the sprawling Terrebonne Parish estuary 50 miles southwest of New Orleans, Pellegrin throws soft-plastic baits, such as the 5-inch Berkley Havoc Grass Pig, in swamp gas and watermelon colors, a pink-­silver MirrOlure Lil John twitchbait, or a 3½-inch natural-colored Berkley Rattle Shrimp. He fishes the plastics on custom-made ¼-ounce lead jig heads with 3/0 and 4/0 Mustad hooks.
Pellegrin fishes the Rattle Shrimp suspended a foot below a popping cork, working it along banks that redfish patrol. He uses the Grass Pig in water 2 to 3 feet deep because it doesn't sink too quickly.
"If none of that's working, you'd ­better have some dead shrimp," he adds. "Add a ½-inch piece of market shrimp to the jig head to stink up the bait a little bit, or remove the plastic and put a half or whole shrimp on the hook."
Pellegrin's preferred spinning tackle includes a Penn Conflict II 2500 reel spooled with 20-pound SpiderWire braid on a 7-foot medium-action rod with moderate-fast action. He ­connects a 2-foot piece of 25-pound mono leader to the braid with a back-to-back ­uni-knot. "With redfish, you don't need fluorocarbon. You don't even need mono," he says. "But I just feel better about having clear line."
Casting outfits feature an Abu Garcia Revo AL-F low-profile reel with 20-pound braid and a 7-foot, medium-power, fast-action Vendetta rod. The light outfits can handle any legal-size redfish, including the one overslot fish the state's anglers can keep per day, he says.
Texas
Capt. Brian BarreraSouth Padre Islandinshorefishingsouthpadre.com
Most south Texas winters remain fairly warm—in the 70s and 80s—but when the cold fronts push down, Capt. Brian Barrera says the redfish heat up. "It does get cold (into the mid-50s) here a lot," says Barrera, who fishes the lower Laguna Madre. "We have a really shallow bay, and in wintertime, it really comes to life. The fish are so much easier to play with; they love to eat lures. There are fewer people, the water's cooler, and the fish are happy."
Barrera fishes DOA 4-inch C.A.L. shad for reds most of the year, but he switches to a 5.5-inch C.A.L. when targeting big redfish during the cooler months. "Bigger pinfish and finger mullet in winter, that's what the reds are eating," he explains. "If you were using live bait, you'd use big mullet or big pinfish. The 5½-inch bait mixes in with what the fish are looking for."
On chilly, windy mornings, Barrera waits until about 9 a.m. to fish, running to deeper, warmer water. He uses his Minn Kota trolling motor to fish channel edges, where his anglers cast those 5.5-inch jerkbaits on a ⅛-ounce jig head into the shallower water and pull their lures off the edge, where redfish lie in wait.
As temperatures rise during the day, reds move into the sun-warmed shallows, where, when it's calm, anglers can cast to tailers. "Those fish will get into 6 to 10 inches of water," he says, adding that he'll rerig the jerkbaits—or a small live shrimp—onto a 3/0 to 5/0 screw-lock weedless hook because of the grass.
Read Next: A Kayak-Fishing Cajun Road Trip
His preferred tackle includes a 7-foot-6-inch G.Loomis E6X inshore rod, "a really, really good rod for jigging up redfish," he says. He uses a Shimano Stradic 2500 spinning reel, spooled with 10-pound braid and an 18-inch, 30-pound fluorocarbon leader. For bull reds (winter can produce fish from 14 to 40-plus inches) or when live-baiting, Barrera switches to 20-pound braid and the same leader setup on a Stradic 4000.
"Winter is a great time for new anglers and kids to learn how to use lures," Barrera says. "They're not hot, they're not sweating, they're not wanting to go home, and the fish are biting."
Gulf State Redfish RegsMost redfish caught in the Gulf of Mexico swim in state waters (federal waters begin 3 to 9 miles from shore, depending on the area). At press time, here were the state-by-state regulations for each of the Gulf Coast destinations. Always check current rules before you fish a new location.
Florida: Daily bag limit: one fish per person. Legal size: 18 to 27 inches total length. Note: Redfish remain catch-and-release only from the Pasco/Hernando county line south through Gordon Pass in Collier County, including all waters in Hillsborough County, through May 31, 2020, due to impacts from red tide in that area.
Alabama: Daily bag limit: three per person, which can include one oversize fish. Legal size: 16 to 26 inches total length.
Mississippi: Daily bag limit: three fish per person, which can include one fish over 30 inches. Legal size: 18 to 30 inches total length.
Louisiana: Daily bag limit: five fish per person, which can include one fish over 27 inches. Legal size: 16 to 27 inches total length.
Texas: Daily bag limit: three fish per person. Legal size: 20 to 28 inches total length. Note: During a license year, one redfish over the maximum length may be retained when affixed with a properly completed Red Drum Tag, and one additional oversize redfish may be retained when affixed with a properly completed Bonus Red Drum Tag. Any fish kept under a Red Drum Tag or a Bonus Red Drum Tag may be retained in addition to the daily bag limit.