Paul explained: "At one point, we were being driven around a quarry in a kind of very souped-up, almost Formula One racing car with a very experienced driver, and the car goes from nought to 60 in two seconds.
"I absolutely hated it, and Suki absolutely loved it. I was going, 'Slow down, slow down!' and Suki was just whooping with joy."
Suki added to the Bridport News: "Another thing I loved was something called the Jacob Sheep experience.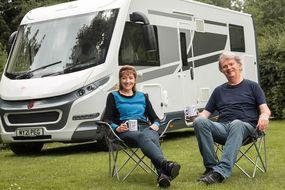 "This farmer and his daughter have acclimatised this breed of sheep to no longer be afraid of people, and they're like dogs.
DON'T MISS...
Andrew Neil return to GB News uncertain as Colin Brazier replaces him [EXCLUSIVE]
Emmerdale's Manpreet finds Leanna's ring after Rishi's death? [SPOILER]
Prince Harry quips Meghan 'f****d up wanting to be a princess'[VIDEO]