The Maine Drug Enforcement Agency has charged 6 people, and seeks a 7th person, in connection with a drug bust in Indian Township.
Drug agents with the MDEA's Downeast Task Force have been involved in a two-month undercover investigation into the sale of fentanyl and crack cocaine in Washington County. During the investigation, undercover agents allegedly purchased the drugs from a half-dozen individuals in the Indian Township, Calais, and Princeton areas.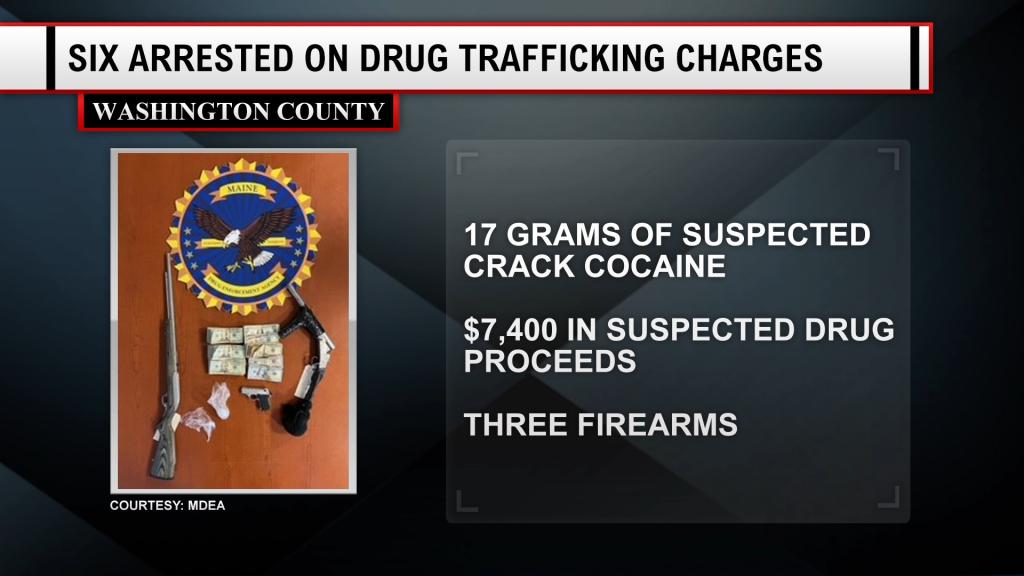 On March 17th, MDEA agents, as well as members of the Maine State Police, the Washington County Sheriff's Department, and members of police departments from Indian Township and Calais, as well as the Department of Indian Affairs, Homeland Security, and the U.S. Border Patrol executed an early morning search warrant at the Indian Township residence of Todd Sockabasin. Seized in that search were 17 grams of suspected crack cocaine, $7,400 in suspected drug proceeds, 3 firearms including a sawed-off shotgun, and other evidence of drug trafficking.
The following people have been arrested as a result of this investigation:
Police say one more person is sought for their alleged involvement in this case. An arrest warrant has been issued for:
Anyone with information about this investigation or the illegal sale of drugs in their community is urged to contact the Maine Drug Enforcement office closest to them, or by texting MDEA to TIP411 (847411), or by calling the MDEA tip-line at 1-800-452-6457.
20 Maine News Stories that Have Shocked Us Since the Year 2000
These 20 news stories, from the past 21 years, had an impact felt around the state. Here are the stories that captured our attention are listed in no particular order.
Parents Should Familiarize Themselves with These Illegal Drugs