We'll undoubtedly remember 2016 for its surge of camping trailers but the year also saw plenty of innovative motorhomes and adventure vehicle add-ons, begging to unshackle modern-day explorers from their everyday surroundings and whisk them off to destinations more relaxing, scenic and fun. A market of extremes, the motorhome segment hosted debuts of everything from premium luxury carriages to tents and toppers sliding a bit of roof over top everyday vehicles. The following field homes have all found a parking spot in our memories, with their innovative designs and features.
One of the smallest, simplest motorhomes we covered all year was also among the most memorable. A camper-van-for-one, the compact, pop-up Wheelhome Vikenze II sleeps the single camper on a mattress atop the folded rear seat. In place of a righthand rear seat, it has a small but nicely-equipped kitchen unit with induction cooktop, electric toaster grill, 7L Waeco fridge and sink. The all-electric kitchen design eliminates the need for fuel tanks and open flames, and the cooktop actually swings aside to reveal a portable toilet. Wheelhome really manages to fit a nice package in a very compact space.
We're not sure whether to call the Vikenze II a motorhome or a comfier, better furnished way of sleeping in your car, but it sure seems like the perfect solution for anyone who needs to escape reality for a couple of days and clear his or her head on the open road.
"Knaus" has been a name that's tingled our ears ever since the beautifully sculpted 2013 Caravisio concept. The new Sun I motorhome reminds us why. The Fiat Ducato-based RV is nowhere near as sleek or visually stunning as the Caravisio outside, but its feature set really shines. A slide-out outdoor entertainment system with 32-in TV and Bluetooth headphones keeps sunbathers entertained, while a retractable indoor TV disappears when you don't need it. Food preparation is made easier with an under-floor storage drawer that rises at the push of a button, and the 190L refrigerator, slate countertop and three-burner stove don't hurt, either. Other equipment and options include the yacht-style flooring, smartphone-controlled lighting and Wi-Fi.
Not everyone's vision of camping is watching TV outside their six-figure RV while sitting poolside. Some just need a roof over their heads, a place to lie down and real, authentic nature outside the window. The "purposely minimal" Base 4x4 travels deep into the heart of nature with its 161-hp turbo-diesel-powered Fuso Canter FG4x4 underpinnings. Once it gets to the night's camp, its electric roof pops up to add interior space, and it provides the basic necessities: a roof over your head, a basic bed to lie down on and the sounds of nature just outside the window (or optional flip-out bed nook). It also has an electrical system, fresh water tank, cassette toilet, indoor sink and outdoor shower, but luxuries like a stove, water heater and indoor shower are sold separately.
Base 4x4 mastermind Mark Schoening posted on his website this month that he's been tweaking the interior to increase sleeping comfort while also opening up in-transit space for carrying equipment like motorcycles. He's created a rugged, straightforward and customizable adventure truck that sells under six figures, and we think it makes for a nice alternative to more expensive, fully-outfitted designs.
Morelo may call the Empire Liner the Lamborghini of the leisure vehicle world, and it may show it parked next to the Huracán while comparing its torque to the Aventador, but we think it'd be better-served calling it "the Rolls Royce of leisure vehicles." The focus is clearly luxury, not horsepower or speed, and the Empire Liner is guaranteed to be more comfortable to sit in than anything with a Raging Bull badge on it.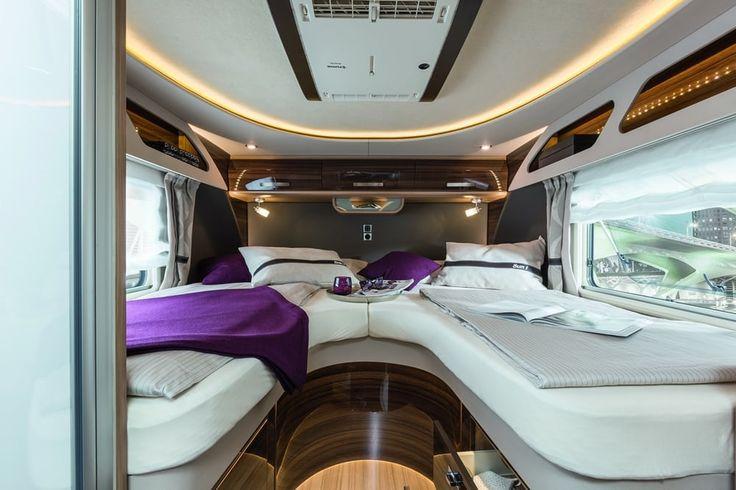 Where other motorhome outfitters focus simply on fitting everyday amenities into the compact space of a wheeled vehicle, Morelo focuses further on making those amenities as luxurious as possible. That effort includes a "luxury bathroom" with rain shower and stone decor, a panoramic bedroom skylight, available solar power systems, available satellite TV, and various garage options sized for everything from a motor scooter to a Fiat 500. Outside, it's still a big, rectangular box, but Morelo has done its best to give it a touch of style, most noticeably with the contrast window surround.
The Base 4x4 is a nice, simple option when compared to other off-road expedition vehicles we've seen, but maybe you already have a motor vehicle you'd like to drive to camp. The Tepui White Lighting roof tent turns that vehicle into an overnighter in short order. Unlike other roof-top tents, this fiberglass-shelled model comes with built in rails for racking bikes, boards and other gear. The tent will even pop fully open with your gear on top.
The White Lightning features removable tent canvas, letting users switch weights for different seasons and conditions, or remove completely to turn tent into cargo box. During its Kickstarter campaign, Tepui also offered an option with solar power and lighting. All in all, the Tepui White Lightning looks like one of most versatile roof-top tents available, instantly turning any base vehicle into a multi-sport adventure camper.
The new Hobby Vantana flashes more style than the average Fiat Ducato camper van outside, but what really sets it apart is its interior. Here, you'll find a refrigerator disguised as a cabinet, a feature Hobby calls a world first. The SlimLine fridge offers plenty of chilled space (90 L) while freeing countertop space and making the kitchen feel lighter and more open. Space-opening innovation continues in the wet bath, where a swivelling toilet tucks away when not in use, providing more space for showering while preventing the bathroom from growing larger than necessary and eating cabin space. Thanks to a folding rear bed, the camper van can even fit bikes and other sports equipment in the back.
During any given year, we see a lot of different ways to 4x4 camp, from rugged off-road trailers, to large, brutal 4x4 expedition vehicles, to pickup bed campers, to basic roof tents. The G-Box from Ququq is something different entirely. Instead of adding a living space to the roof, hitch or chassis, the G-Box turns the Mercedes G-Class cabin into the camper with a folding bed system and pack-away kitchen area. It's surely not the comfiest camper, and certainly not the most spacious, but it lets you explore off-road tracks in a standard-size G-Class, without anything rattling behind, dangling off or sticking up. At camp, it provides a hard-sided place to sleep. It's not a bad alternative for off-road adventurers looking for something simple, self-contained and affordable, though the base vehicle will take a big chomp out of that affordability, if you're buying it new or close to it.
Former military vehicles converted into mud-chewing expedition vehicles are a timeless phenomenon, but not many such vehicles show the attention to design and detail shown in the Bravo 1 we scoped out at Overland Expo East. Built by Bruce Kibler, the Bravo 1 has repurposed a military-surplus BMY M923A2 6x6 into a cool, clean off-road motorhome. The truck was a flatbed when Kibler purchased it, and not only did he build the steel living module in back, he took great pains to give it a unique mix of military, nautical and industrial styling, complete with genuine (and heavy) Navy ship doors, bunk beds, combination safes and industrial workshop-style lighting. The highlight is the cabover observation deck that provides a high vantage point for looking out over the scenery you just drove hundreds of miles to enjoy. We think more RVs should incorporate such a feature.
The Bravo 1 definitely earns our nod for "Coolest Amateur-Built Expedition Vehicle of 2016" and challenges the Transformis Inspire for the title of "Coolest Amateur Build, Period."
The Japan Camping Car Show is where we catch up on the latest in tiny camper vans and kei car leisure vehicles. This year had plenty of interesting visions, including the flashy NOAH Cross City Capsule from Tokai Utility Motor. One of several pet-friendly vehicles at the show, the NOAH's interior is designed around sleeping man and man's best friend bunk-style. The brightly-accented design also includes a small tailgate table for outdoor cocktails or dining and a matching dog carrier. The whole thing certainly looks more suitable for shih tzus than German shepherds, but it is definitely more pet-friendly than the average small camper van.
2016 proved a great year for the mid-size pickup truck slide-in, as multiple brands presented new designs for transforming a Toyota Tacoma or Nissan Frontier into an on/off-road adventure camper. We saw the Tacoma Habitat, the Bivak and the EarthCruiser GZL, all very different designs with different layouts and levels of equipment.
As a fiberglass pop-up camper, and not a tent-based module, the GZL can be considered the most luxurious of the aforementioned group. For large expedition vehicle-builder EarthCruiser, though, it's what small, basic off-road camping looks like. The GZL has a number of interesting features, including the pincer-like hatch opening with integrated steps, the fold-away cooktop and the indoor/outdoor dining table. It also packs an impressive amount of standard and available equipment for such a compact design, including two beds, a kitchen, an electrical system with available solar and lithium-ion storage, a toilet and an indoor shower. All in all, it seems like an intriguing alternative for those looking for some of the amenities of a larger expedition vehicle without the massive size or exorbitant price tag.