The pandemic is forcing us to spend more time within our homes, and for many, that comes with revamping already-existing spaces into the best they can be.
Whether you've recently purchased a primary or vacation home, or are planning on renovating your interiors, we've rounded up the best luxury bathroom amenities to take any bathroom to the next level. Even one of these easy swaps (like a showerhead or faucet) can easily transform your bathroom into a stunning personal sanctuary.
GROHE Rainshower 310 SmartConnect 12" Square Showerhead
There's no reason why even the most mundane, everyday activities can't be purely indulgent. GROHE's Rainshower 310 SmartConnect Showerheads mimic a luxury hotel-style shower, only you can control it via a remote. The showerhead can be easily attached to any existing shower (no construction necessary) and comes in two shapes: round and square. The remote allows you to switch easily between two spray patterns, PureRain or ActiveRain, with another option to combine them both. Aesthetically, the Rainshower 310 SmartConnect is both modern and minimalist in design, but also feels luxurious, resulting in a clean and relaxing shower experience.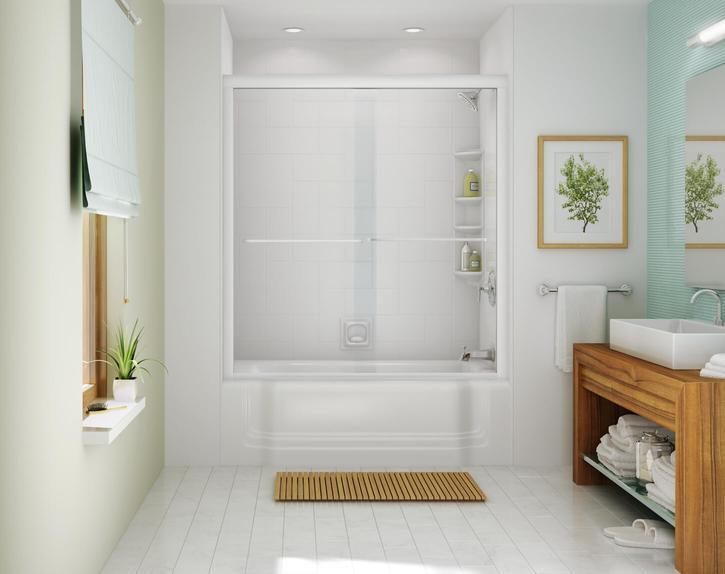 DXV Belshire Freestanding Soaking Tub
Inspired by the 1920s Golden Era Movement, DXV's Belshire Collection infuses high design into every bathroom collection. The Belshire Freestanding Soaking Tub has a unique faceted design with sloped lumbar support. The tub has a soaking depth of 16 inches for an extra-comforting bath. It comes with a polished nickel drain cap. The satin brass faucet is sold separately but adds a beautiful design element.
MORE FOR YOU
Bisazza Marmo Domiziana Basalto Tiling
Italian tiling company Bisazza has some of the world's most beautiful mosaics and has partnered with renowned designers and fashion houses to create beautiful, bespoke decorations. The Marmo Collection features marble tiles in geometric shapes and in different colors. The Domiziana tiling comes in two colors: Basalto (basalt) and Giada (jade), and features polychrome patterns inspired by traditional stone flooring. The black-and-white colors immediately add sophistication to any bathroom for those who are looking to seriously transform a bathroom.
TOTO SP Washlet+ SW Wall-Hung Toilet
TOTO is synonymous with innovation and design. Not only is TOTO the world's largest plumbing manufacturer, but the company is responsible for creating high-touch products that benefit the people and the planet. The SP Washlet+ SW Wall-Hung Toilet's shape is inspired by a wave and fits perfectly into smaller bathrooms and saves nearly nine inches of room space. It is a kit, which includes the SP Wall-Hung Bowl, Washlet+ SW and a DuoFit In-Wall Tank System. It features the Dynamax Tornado Flush system, which optimizes water conservation while creating a very quiet flush (it is also automated via a sensor). TOTO prides itself on its bowl cleaning technology, which includes Premist; Cefiontect (a nano-technology glaze that seals porcelain with an ionized barrier); Dynamax Tornado Flush; and EWATER+, a cleaning method that uses no cleaning agents or chemicals. The Washlet+ SW also features gentle aerated warm water with adjustable pressure and oscillating pulsating features. There is warm air drying, a night light, an automated lid that opens and closes and an automatic air deodorizer.
Resource Furniture Full Moon Mirror
Resource Furniture is known for their space-saving furniture, with unique configurations and hidden storage. The company also has beautiful pieces that elevate any room, including the Full Moon Mirror. While this can be used as a decorative living room piece just as well as it can be used in a master bathroom, the Full Moon Mirror is an illuminated wall-mounted mirror that has LED backlight in warm white or RBG color. The metal frame comes in embossed finishes or silver and gold leaf. All Resource Furniture is made in Italy featuring the best Italian craftsmanship.
Kallista Klyne Widespread Sink Faucet
Founded in 1979, Kallista is known for its artful kitchen and bathroom designs, with everything from modern kitchen faucets to showerheads and more. The latest Klyne Collection is inspired by geometric forms and mixed metals, resulting in an alternative, yet sophisticated design. Meant to elevate your existing, or new, bathroom, the Klyne Widespread Sink Faucet featured a narrow spout that widens at the neck, plus rectangular level handles. Both the spout and handles are slightly lifted and set above a floating base. It is outfitted with an environmentally sound 1.2 gallon minimum/maximum water flow rate. The Klyne Widespread Sink Faucet comes in two two-tone finishes: chrome or nickel with matte black accents on the faucet sides or bases, or is available in a singular finish of chrome, nickel or matte black.