For Mark Cornwell of Grand Traditions, no spec home or custom build project is ever the same. With a passion for historic architecture, his goal is to make every house feel timeless—elegant and charming but designed in a way that makes it feel like it's always been there and stands the test of time.
A classic East Coast-style home that Cornwell and Grand Traditions' business partner Ron Arder built recently in downtown Barrington is emblematic of that vision and mission. He approached the project the same way he approached building his own French Provincial home just a few doors down. The lot had to be large enough to accommodate Grand Traditions' estate style design with a detached garage that resembles a historical carriage house. Beyond that, the architectural style had to be historically accurate and blend well with the neighborhood, yet stand out with a look all its own that would age gracefully.
Mark Cornwell's Grand Traditions recreates a taste of the East Coast—right in the heart of downtown. PHOTOGRAPHY BY JOHN AND MAURA STOFFER
"We like working with many different architectural styles but one I've always been drawn to is the charm of the classic shingle style homes often found on the East Coast. That seemed like something that would be fun to bring to the village," says Cornwell of the spec home, which he later helped customize for a Barrington family. "I also wanted to add a slight transitional twist to keep it updated, but still true to the shingle style."
Kate Marker of Kate Marker Interiors has worked with Cornwell and his team on many projects in the Barrington area, so she knew that when Tim and Kristin Routhieaux approached her about the possibility of building a new custom home, Grand Traditions was the perfect choice.
A steeply pitched cedar shake roof and charming front porch add small-town character to the village.
"Kristin was a previous client and once she began discussing building new with me, I made the introduction to the Grand Traditions team knowing their craftsmanship is unmatched," explains Marker, who also knew the couple as fellow parents at Grove School. "Mark and his staff are so willing to incorporate unique design elements so that each house is client-centric, not builder-centric."
Cornwell says that while he talked to the couple about various options, they ultimately decided the shingle style spec home that was already underway would be the best fit. The Grand Traditions team worked with them to add details to their taste and lifestyle. Some custom touches included an inviting Bluestone front porch with Chippendale painted railing, tumbled stone, and cedar shake siding. The couple opted to finish out a third-floor space as a "kids lounge," along with adding a screened-in porch and finished lower-level with all the amenities, including a bar, temperature controlled wine cellar, and steam room.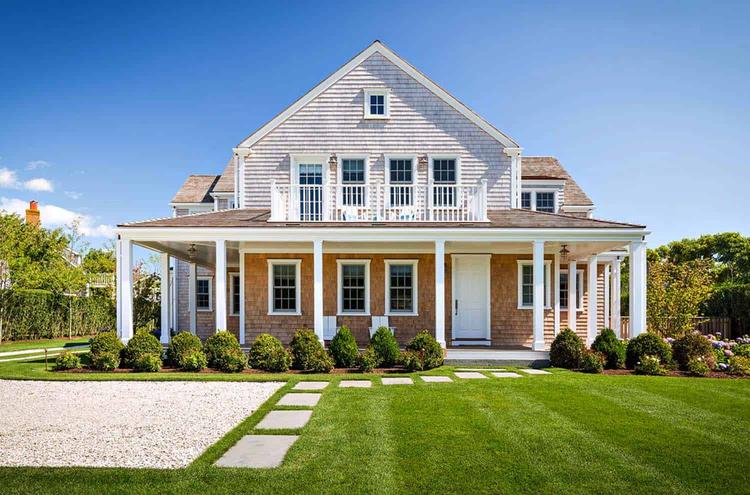 A luxurious screened-in porch transitions the home to the back yard with features that extend the seasons. With an outdoor wood-burning fireplace, built-in patio heaters, and an extensive entertainment system, the family can enjoy fresh air from early spring through late fall.
"We came onboard as material finishing choices were beginning and carried through to the final touches of accessories and artwork, having fun collaborating on so many decisions in between," adds Marker.
Step into the finished five bedroom and four-bath home and the look is both elegant and contemporary—with a few rustic details.
"It's fun to have a juxtaposition of old and new," says Cornwell. "For instance, we decided to use reclaimed pine ceiling beams in the family room and kitchen space, but kept the cabinetry clean and streamlined with some modern touches."
In addition to the wood beams, Cornwell was also able to incorporate reclaimed interior steel windows that were purchased from a 1920s English Tudor home in Indiana. These are the kinds of touches that give a Grand Traditions home character.
A formal powder room with a custom white oak vanity is a show-stopper. One of the highlights is an unlacquered brass, single handle Watermark faucet from Brooklyn.
"Mark has such an eye for detail that it was easy to incorporate some of our ideas with his creativity. My favorite part of the house is the screened-in porch," says Kristin. "It was originally designed to just be an outdoor patio but we wanted to make it an extension of our family room. The French doors open to the enclosed porch, and it brings the outdoor space into the home. We are now able to enjoy those summer and fall evenings, with the double-sided fireplace, outdoor TV, and speaker system, without the annoyance of pesky bugs."
Cornwell, who has worked with Marker on many other new construction homes throughout the Barrington area, says it's rewarding to know that Grand Traditions has completed another property that enhances the village and contributes to its historic charm and character.
Sitting at the bar offers views of a "floating" wine cellar through a custom leaded glass window. A custom beer tap can be seen in the distance.
"The outcome exceeded our expectations," Kristin adds. "There are so many distinctive characteristics to this house. Combining our laid-back lifestyle with Mark and Kate's design expertise has resulted in another successful project for both. Our family loves the new space."
Grand Tradition is located at 317 W. Main Street in Barrington, 847-304-4900, grandtraditionhomes.com.