---
---
2The Georgian-style Perrin & Rowefaucetis in keeping with the home's roots, as is the unlacquered brass finish that will patina over time. The farmhousesinkis also period appropriate.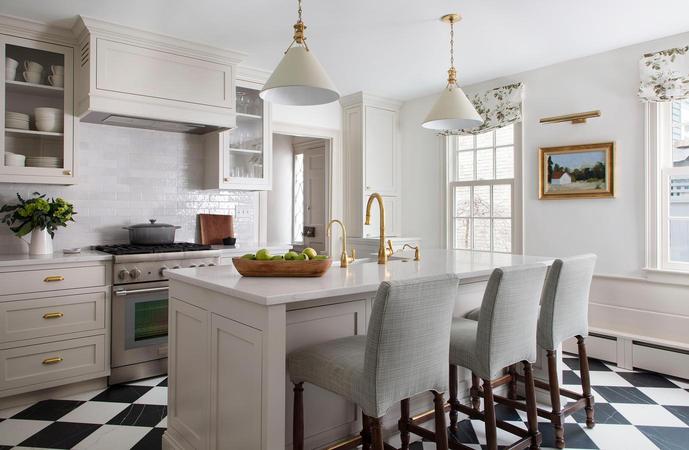 3Thecupboardto the left of the doorway visually connects the otherwise awkward corner to the rest of the room. "Classic Shaker-style cabinets are a go-to for us," Gates says. "They'll never go out of style."
4The Hudson Valley Lighting painted metalpendantsmimic English ceramic styles. "I like the streamlined shape and the classic brass details that coordinate with the hardware," Gates says. "Unlike clear glass, they won't be a struggle to keep clean."
5Inexpensive ceramictileswith texture and variation have a rustic feel without a handmade price.
6The design of the porcelain tilefloorpays homage to the painted checkerboard pattern on the existing wide-plank floorboards. "While full of character, the deep grooves caught every crumb," Gates says. "This will be easy as pie to maintain."
---
Marni Elyse Katz is a regular contributor to the Globe Magazine. Send comments to magazine@globe.com.