Another long work week means another weekend to treat yourself with some delicious craft beers!
We've looked through a mix of tap lists throughout New London and Windham counties to find what local breweries are serving up. This weekend's highlights include Bear Hands Brewing Company's 8% Vanilla Coconut Porter. "Dessert," Willimantic Brewing Company's 6.6% "Commemorative IPA," Outer Light Brewing Company's 5.6% Smoked Cherry Porter "Firelands," and Black Pond Brews' 10.5% Colonial Inspired Wild Ale "Old Put's Reserve."
Check out the list below for some highlights from each brewery, as well as links to their full tap menus.
Bear Hands Brewing Company
Show Me Vic Secret: 6.2% New England IPA.
"'Show Me' is our popular single hopped New England IPA series that rotates out a new hop each time around. Sharing the same grain bill this beer is nice and hazy with just enough body to not steal the "Show" from the featured hop. This batch we used the Vic Secret hop. Vic Secret is an Australian hop that boast a bold blend of tropical fruit flavors including pineapple and passion fruit."
Dessert: 8% Vanilla Coconut Porter.
"This imperial vanilla coconut porter is a medium bodied beer. The chocolate roasted malts give a slight battering that is countered with the sweetness of vanilla. The hints of coconut on the tail end give it a delightful finish. This beer is so good it could be a dessert."
Hop Head Red: 6.3% Hoppy Red Ale.
"Hop Head Red is a beer that is for the true craft enthusiast. This Hoppy Red Ale doesn't quite fit into the Red IPA category, and it certainly isn't your average low IBU Red Ale, but more of a fusion of the two.The malty base of this Ale boasts rich notes of honey and biscuit.All placed into the background by bold hop flavors and aromas of piney, citrus, and grapefruit resinous West Coast hop additions."
Bear Hands Brewing is located at 75 Main St., Suite 1, in Putnam.
Black Pond Brews
Old Put's Reserve: 10.5% Colonial Inspired Wild Ale.
"Brewed with barley, oats, wheat, rye, corn, molasses, spruce tips, and our house Brettanomyces yeast."
White Pony: 6.2% New England IPA.
"Single hopped NEIPA featuring Citra hops. Hazy, juicy, fruity."
Black Pond Brews is located at 21 Furnace St. in Danielson.
More: Hard work and perseverance: The Deli and Market on Maple Street in Danielson
Epicure Brewing
Santa's Revenge: 8.8% Spiced Ale.
"Ginger, nutmeg, allspice, and everything nice? Sure it's in there, but this beer is deliciously malty and packs and 8.8% kick...who's been naughty now?"
BDubs: 5.7% American Pale Ale.
"Your first impression of BDubs is a vibrant light-orange hue with a smooth white head. This visual presentation is enhanced with orange, mango, and earthy pine aromas. Overall, this light-bodied beer starts with a mild bitterness, assaults your palate with citrus and pine and finishes dry."
Epicure Brewing is located at 40 Franklin St. in Norwich.
Fox Farm Brewery
Bower: 5.3% Kölsch.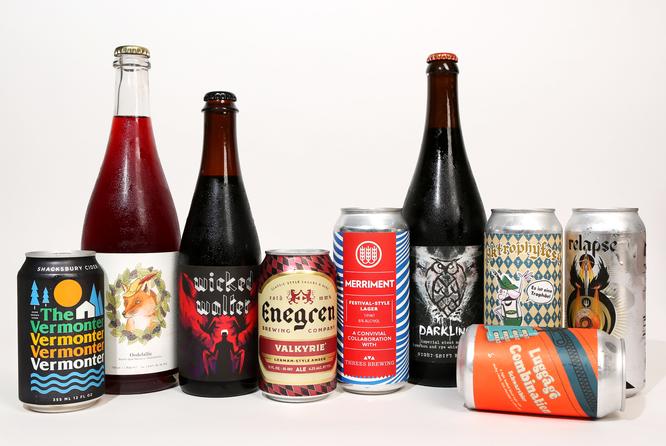 "Few brewing cultures have a history that runs as deep and strong as that of Cologne, Germany and none have born a style like Kölsch. Complex but eminently drinkable - if put together properly, a good Kölsch-Style beer can deliver enough depth of character that it begs another sip along with the drinkability to keep allowing for the next one. Made with an especially clean top-fermenting strain, hopped carefully and lagered for 8-weeks we think Bower delivers on that goal. Show Less."
Scatter: 6.4% Brown Ale.
"Made with classic British malts and new world hops. Brewed to highlight chocolate malts while maintaining a delicate and drinkable body. Low roast, and creamy foam."
Fox Farm Brewery is located at 62 Music Vale Road in Salem.
More: What to know as the top-seeded Killingly High football team heads to state semifinals
Outer Light Brewing Company
Firelands: 5.6% Smoked Cherry Porter.
"Brewed with Perle and East Kent Goldings hops. Hazy & super drinkable. Smokey flavor with a hint of chocolate and a tart cherry finish."
Peanut Butter Pitch & Roll Imperial Stout: 8.8%: Imperial Stout with Chocolate & Peanut Butter.
"Smooth, sugary imperial stout with strong notes of peanut butter and rich dark chocolate."
Cloudbreak: 7.8% Double New England IPA.
"Brewed with Idaho 7 and Mosaic hops. Smooth and hazy with bold notes of tropical fruit"
Outer Light Brewing Company is located at 266 Bridge St. in Groton.
These Guys Brewing Company
Drink About It!: 4.2% Session IPA.
"This super aromatic session is brewed with Citra & Simcoe, then double dry hopped with more Citra! Full hops, full flavor, light ABV for your crushing pleasure."
White Anniversary Ale: 4.7% Witbier.
"Brewed with coriander and orange rind."
These Guys Brewing Company is located at 78 Franklin St. in Norwich.
Tox Brewing Company
Deadly Nightshade: 6.3% Coffee Milk Stout.
"American Milk Stout aged on our house roasted single origin coffee. This batch features a Guatemalan coffee called Guatemala Acatenango San Diego Buena Vista. Holy chocolate covered espresso beans! This coffee also exudes notes of brown sugar, Nutella, cocoa powder, atouch of fruit, vanilla, and cinnamon."
Devil's Trumpet: 7.5% Double IPA.
"Devil's Trumpet is an old home brew project and the first Double IPA we ever brewed on our 5 BBL Brewhouse. It has become an ongoing experiment to brew a hop forward and super flavorful Double IPA with American hops that are always readily available. The result was a flavor punch of accidental wonderment. We fell in love with the strong aromas that lead to lemon candy, and citrus pine."
Tox Brewing Company is located at 635 Broad St. in New London.
More: Poppy and Rye owners retiring, business to become La Stella Pasta and Pastry
Willimantic Brewing Company
Commemorative IPA: 6.6% IPA.
"Big bursts of hop flavors from CTZ, Chinook, Cascade, Centennial, & Crystal hops - Unfiltered IPA brewed to commemorate our lost loved ones."
Holiday Honey: 4.9% Blonde Ale.
"An approachable, malt-oriented American beer that is well-balanced and great for easy-drinking."
Raisin Old Ale: 8.6% Old Ale.
"Unfiltered E.S. Old Ale brewed with 30lbs of raisins, Maris Otter, Rye, Aromatic, & Wheat malts. A delicious big beer!"
Willimantic Brewing Company is located at 967 Main St. in Willimantic.
See a brewery that's missing? Send an email to bcallahan@gannett.com and let us know!