The right hardware can take your interiors to the next level. Be prepared to amp up your decor with these seven tips from local hardware experts at Brandino Brass Co. So the next time you set out to get new hardware, you'll be armed with all the information you need to make the perfect choice for your home.
"People come in and say they have a 'standard' door," says Renee Genereux of the Brandino Brass team. "But there is no such thing as standard. You need to know your door thickness, how does it swing, what's the width, what kind of holes do you have." Avoid multiple visits to the hardware store because you don't have all of the information and measurements you need. "We give them all of the questions to answer and then they come back with all of it." Call Brandino Brass ahead of time to ask what you need to know for your visit or check out the sheet below as handy guideline for getting to know your doors and cabinets better.
"Our job has gotten easier with the use of cell phones," says Renee. "When people take pictures of the front, back and side of their door, we can answer most questions for them."
Use this cheat sheet to get the information you need to get the right hardware for your home.
"We find it refreshing for people to purchase what they like and what feels good to them, not caring what the 'Joneses' have," says Renee. The Brandino Brass team regularly works with professionals who have their own signature styles. "One architect in town may use the same small knob all over the house all in the same finish for continuity. Another one will use different styles and finishes in each individual room," says Jessie Isom, Brandino Brass team member. "There is no right or wrong if you like it."
Chrome pulls and glass cabinet knob mingle beautifully.
Nickel knobs in a smaller-than-usual one-inch diameter
Square white bronze pulls
While it is important to stay true to your personal style, you don't want a lantern that is half the height of your door or an oversized mailbox beside a tiny cottage. So, take into account what you are working with as you choose the style that is most you! "I suggest they get painter's tape and put it on the house in the dimensions of the fixture to get a sense of the size. You want it to be the correct proportion," says Brandino Brass team member Megan Brasher, adding, "To get the feel for how it will affect your home's curb appeal, not only do you need to look at it right next to the front door, but you also need to take a step back and get a view from the street."
6-by-6-inch custom post, 6-inch oil-rubbed bronze numbers and an oversized mailbox
14th Colony lanterns flank this front entrance.
"What is your overall style? Traditional, contemporary, arts and crafts, eclectic, cottage, French, Mediterranean, Western, Art Deco or coastal," asks Brandino Brass co-owner Eric Brandino. He encourages clients to think about the style of their home or the style they would like to incorporate. "Is there a consistent style throughout or does it vary from room to room? Transitional style has been one of the most popular looks recently," he says of what's trending in hardware. "Clean lines with just a touch of traditional features and finishes, such as an unlacquered brass or bronze."
Unlacquered brass entry set with patina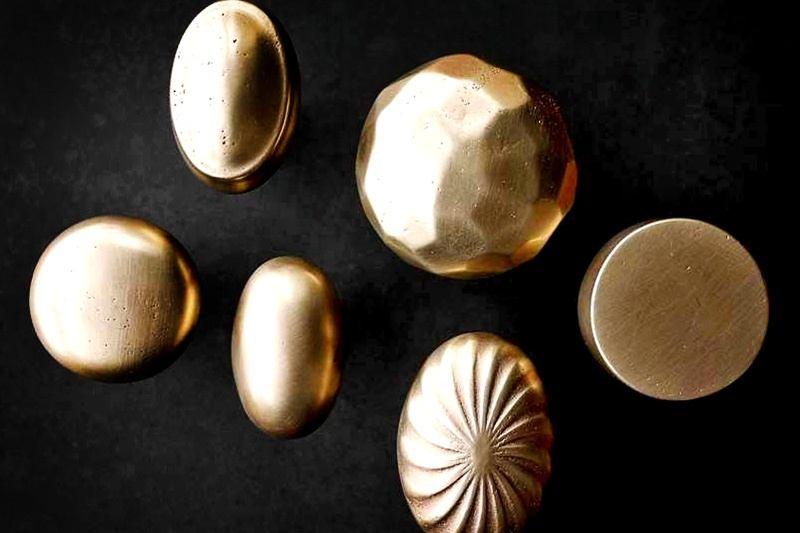 Lucite pulls | Image: Meg McKinney
Rocky Mountain entry set | Image: Rocky Mountain Hardware
"It's changed. You don't have to choose one metal and use that throughout your house. You can mix and match," says Renee. "You can do a polished nickel light and faucet with unlacquered brass cabinet hardware. You want it to blend and be careful of clashing, but you can definitely mix metals."
The white bronze cabinet pulls, polished nickel bath accessories and unlacquered brass door knob in this bathroom are a perfect illustration of seamlessly blending mixed metals for a cohesive look. Image: James Acomb
Satin brass pulls mix well with stainless steel appliances.
"Polished nickel and chrome have made a great comeback in baths and are showing up more in kitchens for those who like their hardware to be the jewelry of their cabinets," says Megan. For those who do not want the shine, Megan suggests using a natural bronze, unlacquered brass or true pewter for a timeless finish that will age over time.
Arched rosette with egg knob in unlacquered brass
"When it comes to hardware, it's hard to shop on the internet," says Eric. "Some things that look really good online, look cheap in person and vice versa. Some cheap-looking online items look exquisite in person." The Brandino Brass team says that not only the look, but the feel of door hardware and cabinet hardware is very important. "You don't want a handle to poke you or have an awkward grip for your hands," says Renee.
"Everybody has their own aesthetic," adds Megan. "Where one customer will grab a knob and say it's perfect for them and feels good, another has said the same knob is too shallow or small."
Once you're happy with the look and feel of the knob, seeing the actual pieces in your home is important too. "Our lighting in the showroom is different from the lighting in your home," says Renee who sends certain items out on approval when possible. "We often encourage people to take a sample home to make sure they are happy with it."
Turnstyles leather pull from England
Sun Valley Bronze cabinet knobs | Image: Sun Valley Bronze
Now, snap pics of your doors and cabinets, and go grab some gorgeous hardware that will take your home to the next level!
Thank you to Brandino Brass Co. for the fabulous tips and lovely images!
**********
Want the best of everything local? Download our SB app. It's FREE!