Contributors: Zara Collings, Ian Harkin, Bethany Lord, Iona St. Joseph
After a double weekend of netball, we saw all teams battle across twelve matches, with our top four of Manchester Thunder, Loughborough Lightning, London Pulse and Saracens Mavericks each record at least one win, further pulling away from the rest of the pack. Both Thunder and Lightning remain unbeaten this season and are beginning to show signs that it will be increasingly difficult for any team to do so.
As we edge closer to the half way point in the season, the strength and depth of our team's benches are beginning to be tested. With both Beth Dix and Gabby Marshall ruled out this week due to Covid protocol, we are very much reminded that despite the weaning restrictions, the league is very much still at the mercy of uncontrollables.
As we approach Round 9, there are a number of teams who will be really looking to stamp their authority. With Strathclyde Sirens hosting Celtic Dragon's in Glasgow, it will be a must win game to keep their hopes of reaching top four alive. London Pulse will take on ladder leaders Manchester Thunder and will look to cause an upset after an impressive run of good form has seen them maintain third position on the ladder. Surrey Storm will match up against Wasps and will view that match as a key step in their quest to reach the top four this season. Wasps have suffered some incredibly tight defeats in recent weeks so will certainly be looking to prove themselves against Storm, who sit just one position higher than them in the standings.
Emma Magee injured for Storm against Pulse and didn't play round 8
Ine-Mari Venter injured for Mavericks v Sirens and didn't play round 8
Beth Dix ruled out of both games due to Covid protocol
Gabby Marshall ruled out of both games due to Covid protocol
It has been confirmed that Emily Hollingworth of Rhinos has ruptured her ACL and is out for the rest of the season. Best wishes for a good recovery.
Most Goals:46Proscovia Peace (Storm v Pulse)
Most Feeds:33Nat Metcalf (Thunder v Rhinos)
Most Gains:9Shadine van der Merwe (Thunder v Rhinos) & Phumza Maweni (Bath v Dragons)
Most Offensive Rebounds:5Mary Cholhok (Lightning v Wasps)
Most Defensive Rebounds:4Layla Guscoth (Bath v Dragons) & Lindsay Keable (Pulse v Sirens)
Most Deflections:8Funmi Fadoju (Pulse v Storm, Shadine van der Merwe (Thunder v Rhinos) & Razia Quashie (Mavericks v Storm)
Most Intercepts:8Phumza Maweni (Bath v Dragons)
---
LEEDS RHINOS 53 def SEVERN STARS 49
Coming off a disappointing win against Celtic Dragons, Severn Stars were looking to use their home ground advantage to pull off a win, whilst Leeds Rhinos came into Round 7 looking to back up Round 6's win against Wasps.
The game started off with a bang, with Jade Clarke and Liana Leota taking intercepts one after the other, setting the tone for the rest of the match. The first few minutes were goal for goal, and there was a sense of chaos as both teams made a number of unforced errors. Once the teams settled down, the quarter was hotly contested, and a strong finish from Stars took them into the break with a two-goal lead, 15-13.
Airey came on into GK for Rhinos at the start of the second quarter and made an instant impact, leading to a six goal turn around for the team. Hall came on into WA, and with strong feeds, Rhinos ended the quarter with a five-goal lead, 25-30.
The third quarter began with some missed goals from Rhinos, allowing Stars to bring the scores level. Stars' quick transitions allowed them to capitalise on any Rhinos errors, taking them to a two-goal lead. Rhino's, unhappy with the turn of events, brought on defender Paige Kindred into GD. Unfortunately, this was too late for there to be much of an impact in the quarter, and three-quarter time started with Stars ahead 41-39.
Rhinos came onto the fourth quarter firing – cool, calm, and collected. Several tactical changes allowed them to bring the scores level with just minutes to go, and clean passages of play in the dying minutes of the game saw them take a small 2 goal lead. Stars, however, weren't ready to give up, and a turnover on the centre pass brought the game back to level. In the end, Rhinos were just too strong for the Stars side – despite making errors themselves in the last few minutes, they were able to recover quickly and capitalise on any of the opposition's mistakes, leading them to a 49-53 win.
Although Rhino's took their first back-to-back wins of the season, they'll still be looking to improve. Several unforced errors were made that they will be wanting to eliminate, and whilst there were flashes of great play, if they want to be in contention for a top four position at the end of the season, they need to be able to put out a four-quarter effort and would've been looking at a stronger score line against one of the lowest ranked teams this season. Stars likely also won't be happy with that performance – they were in the lead several times in the game, and often had comebacks that just didn't quite go all the way. If they want to win games against the sides above them, they need to push all the way to the end and hold onto those strongly fought for leads.
Starting 7s
Stars – GS Eaton GA Harris WA Dyke C Leota WD Thomas GD Herdman GK Artman
Rhinos – GS Clinton GA Rushton WA Grierson C Clarke WD Hollingworth GD Oyseola GK Keenan
Severn Stars
Issy Eaton 25/34 (76%)Paige Reed 19/21 (90%)Katie Harris 5/6 (83%)TOTAL 49/60 (82%)
Feeds 33 (Dyke 17)Gains 13 (Artman 4)Penalties 40 (Artman 12)
Leeds Rhinos
Amy Clinton 35/41 (85%)Sienna Rushton 18/24 (75%)TOTAL 53/65 (82%)
Feeds 28 (Grierson 12)Gains 15 (Airey 8)Penalties 55 (Hollingworth 10)
Player of the Match: Rebekah Airey (Rhinos)
(Image: Izzy Jamos)
---
WASPS 60 def CELTIC DRAGONS 37
Wasps
Rachel Dunn 39/44 (89%) Lucy Parize 16/21 (76%)Gezelle Allison 5/6 (83%)TOTAL 60/71 (85%)
Feeds 58 (Christian 25)Gains 11 (Huckle 5)Penalties 54 (Huckle 16
Celtic Dragons
Lefebre Rademan 23/28 (82%)Georgia Rowe 9/10 (90%) Katrina Short 4/4 (100%)Phillipa Yarranton 1/3 (33%)TOTAL 37/45 (82%)
Feeds 33 (C. Jones 11)Gains 7 (N. Jones 3)Penalties 57 (Greene-Noel 14)
---
(Image: Brian Bosche)
LONDON PULSE 56 def SURREY STORM 50
Season 2022 has seen some exciting performances from both of these sides so far, so it would have been anyone's guess as to who would step up and take the win in round 7. Surrey Storm, with Proscovia Peace under the post, are a force to be reckoned with, whilst London Pulse are gunning for that top four spot and with Funmi Fadoju sitting up amongst the league leaders for most intercepts, turnovers and deflections, this was always going to be an exciting battle.
What worked
Storm came out of the blocks firing, taking a confident lead early in the first quarter. Their attacking end was confident getting the ball down to Peace and it looked like they were setting out their stall early on. For Pulse, it was a shaky start, but they didn't let the game get away from them. The London side had a clear game plan; to shut down Peace and try to keep her high in the circle, either forcing Storm goal attack Emma Magee to take the shot, or to keep Peace as far away from the post as possible.
There was physicality from both sides, but looking at the stats, both sides were fairly evenly matched. The biggest differences were on deflections (18 vs 12) and turnovers (13 vs 7), which is where Pulse picked up the extra ball and converted to goal.
Pulse captain Zara Everitt said at half time that they had shown throughout the season so far that they can fight back, and this game was no different. They put in a full-court performance, with everyone standing up to do the work and turnover ball before it made it down to the Surrey Storm attack end.
Where it was won and lost
Despite the shaky start, Pulse looked like they were playing what was in front of them. They reacted well to the game Storm were putting out on court, and kept putting in the work. There were points in the game where it looked like the Storm players were waiting for calls from the umpire, which gave Pulse the advantage.
Defensively, Lindsay Keable and Funmi Fadoju worked well together to put on great defensive pressure on Peace, and kept Storm goal attack Emma Magee to just 1/2 (50%).
At the other end of the court, Liv Tchine put up 36/39 (92%) and deservedly took home the player of the match award. She was supported by Sacha McDonald, who had a great game and shot 20/22 (91%). The mid-court for Pulse put in some fantastic work to help the London side take home the win, Zara Everitt picked up two interceptions, five deflections and three intercepts, whilst Ellie Rattu and Ash Dekker both supported their team's defence with a deflection and a turnover each.
For Surrey Storm, they continue to rely heavily on Peace but don't seem to have a plan B when that doesn't work for them. With the Pulse defence working hard on shutting down the feeds into the circle, Emma Magee needed to step up, but she was costly given that she only put up one goal, with four penalties and two unforced errors.
Surrey Storm Player Coach Mikki Austin said after the game that it's not good enough to just execute at times throughout the game, they have to execute for longer passages of play and they didn't do it for long enough today, which summed up the Storm performance.
Standout player
The cool head of Liv Tchine helped Pulse take the win, and she deservedly picked up the Player of the Match title. She worked well with Sacha McDonald, and they took the pressure from the Storm defence well.
It's hard to watch a Pulse game without singing the praises of Funmi Fadoju; with two interceptions, eight deflections, four gains, her domination of the league's defensive stats continue.
Starting lineups
Pulse – GS Tchine GA McDonald WA Dekker C Rattu WD Everitt GD Fadoju GK Keable
Storm – GS Peace GA Magee WA Parsons C Austin WD Cooper GD Middleton GK Priest
London Pulse
Olivia Tchine 36/39 (92%)Sacha McDonald 20/22 (91%)TOTAL 59/64 (92%)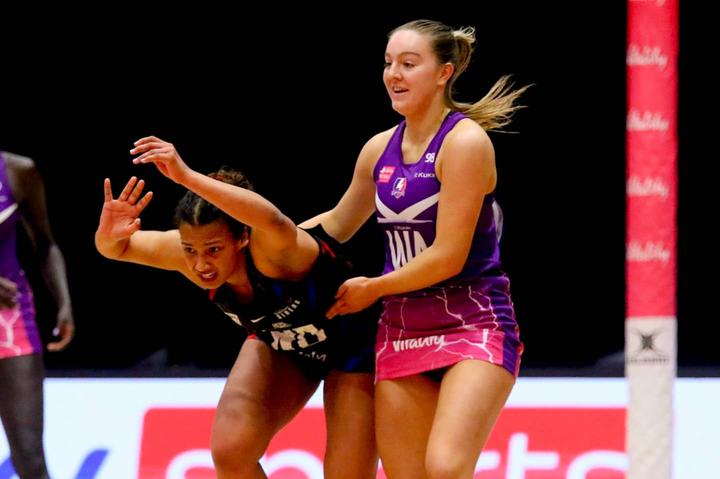 Feeds 55 (McDonald 18)Gains 13 (Fadoju 4)Penalties 67 (Keable 21)
Surrey Storm
Proscovia Peace 46/51 (90%) Francesca Wells 3/5 (60%) Emma Magee 1/2 (50%)TOTAL 50/58 (86%)
Feeds 52 (Parsons 20)Gains 8 (Parsons 3)Penalties 60 (Cooper, Middleton 14)
Player of the Match: Olivia Tchine (Pulse)
---
(Image: @rzphoto_)
SARACENS MAVERICKS 48 def STRATHCLYDE SIRENS 45
Saracens Mavericks
Ine-Mari Venter 14/16 (88%)Britney Clarke 13/13 (100%)Kadeen Corbin 13/15 (87%)Chloe Essam 8/14 (57%)TOTAL 48/58 (83%)
Feeds 39 (S. Corbin 10)Gains 17 (Gibson, Quashie 6) Penalties 47 (Gibson 13)
Strathclyde Sirens
Niamh McCall 19/23 (83%)Bethan Goodwin 16/18 (89%)Emma Barrie 10/14 (71%)TOTAL 45/55 (82%)
Feeds 32 (Abernethy 15)Gains 12 (Vinkhumbo 5)Penalties 31 (Vinkhumob 12)
---
MANCHESTER THUNDER 69 def LEEDS RHINOS 45
It was a dominant performance from Manchester Thunder in round seven as they beat Leeds Rhinos by 24 goals in an end-to-end performance in round 7. Rhinos were coming off the back of a close game with Severn Stars on Friday night, and it was clear from the offset that two games in two days is a tough ask for these sides. With Rhea Dixon still out through injury, the Rhinos shooting end struggled and a raft of changes across the court leaves us guessing at what their plans are to cement that goal shooter / goal attack combination. Thunder were ruthless, racking up 21 goals to 7 in the first quarter, and making it clear that they're looking to stamp their name on a top four spot. It was great to see goal defence Shadine van de Merwe take home the player of the match title for a fantastic performance.
Manchester Thunder
Joyce Mvula 39/46 (85%)Ellie Cardwell 25/28 (89%)Nat Metcalf 5/7 (71%)TOTAL 69/79 (87%)
Feeds 89 (Metcalf 33)Gains 22 (van der Merwe 9) Penalties 26 (Almond 9)
Leeds Rhinos
Sienna Rushton 26/32 (81%)Brie Grierson 9/12 (75%)Sigi Burger 8/11 (73%)Amy Clinton 2/3 (67%)TOTAL 45/56 (80%)
Feeds 70 (Clarke 24)Gains 14 (Keenan 5)Penalties 31 (Keenan, Oyesola 8)
Player of the Match: Shadine van der Merwe (Thunder)
---
SURREY STORM 55 def SARACENS MAVERICKS 53
Surrey Storm
Proscovia Peace 39/41 (95%) Francesca Wells 16/20 (75%) TOTAL 55/61 (90%)
Feeds 48 (Austin 23)Gains 12 (Kwangwa 7)Penalties 62 (Middleton 20)
Saracens Mavericks
Kadeen Corbin 37/39 (95%)Chloe Essam 16/22 (73%)TOTAL 53/61 (87%)
Feeds 55 (Ecuyer-Dale 21)Gains 10 (Ecuyer-Dale, Quashie 3) Penalties 47 (Quashie 21)
---
TEAM BATH 59 def CELTIC DRAGONS 43
Team Bath
Betsy Creak 25/29 (86%)Kim Borger 20/22 (91%)Sophie Drakeford-Lewis 14/14 (100%)TOTAL 59/65 (91%)
Feeds 54 (Harris 16)Gains 20 (Maweni 9)Penalties 32 (Guscoth 10)
Celtic Dragons
Georgia Rowe 29/32 (91%) Lefebre Rademan 14/19 (74%)TOTAL 43/52 (83%)
Feeds 39 (Rademan, O'Dwyer, C.Jones, Rudland 9)Gains 6 (Greene-Noel 2)Penalties 49 (N.Jones 11)
---
LOUGHBOROUGH LIGHTNING 57 def WASPS 53
Loughborough Lightning
Mary Cholhok 40/46 (90%)Ella Clark 11/12 (92%)Suzie Liverseidge 6/7 (86%)TOTAL 57/65 (88%)
Feeds 53 (Joseph 16)Gains 6 (Bowen 2)Penalties 61 (Harvey 13)
Wasps
Rachel Dunn 28/31 (90%) Gezelle Allison 14/17 (82%)Lucy Parize 11/17 (65%)TOTAL 53/65 (82%)
Feeds 55 (Christian 15)Gains 8 (Fee 3)Penalties 42 (Huckle 16)
Player of the Match: Ella Bowen (Lightning)
---
(Image: Clare Green)
LOUGHBOROUGH LIGHTNING 53 def TEAM BATH 44
Team Bath
Sophie Drakeford-Lewis 20/24 (83%)Kim Borger 19/22 (86%)Betsy Creak 5/6 (83%)TOTAL 44/52 (85%)
Feeds 49 (Harris 13)Gains 8 (Maweni 3)Penalties 34 (Maweni 13)
Loughborough Lightning
Mary Cholhok 32/37 (86%)Ella Clark 21/23 (91%)TOTAL 53/60 (88%)
Feeds 49 (Panagarry 18)Gains 15 (Williams 6)Penalties 59 (Harvey 14)
Player of the Match: Phumza Maweni (Bath)
Despite her team being on the wrong end of the result, Bath's Phumza Maweni was awarded Player of the Match (Image: Clare Green)
---
LONDON PULSE 48 def STRATHCLYDE SIRENS 38
London Pulse retained their 'unbeaten at home' record for the 2022 season after seeing off Strathclyde Sirens in a convincing ten goal win.
It wasn't all plain sailing for the team in pink however, with much of the first half hotly contested goal for goal. Both shooting circles functioned well, with Sacha McDonald and Olivia Tchine really beginning to develop a strong relationship for Pulse. With Emma Barrie back on the bench, Sirens opted for the combination of Beth Goodwin and Niamh McCall in the first two quarters which also worked well for the visitors. Equally, at the other end of the court, both defensive units were working well together and turned over a number of balls. It was, however, in the midcourt where this battle was eventually won and lost.
Sirens struggled without the punch and speed of Beth Dix, who had been ruled out of the match due to Covid protocol. Her replacement, Kelly Boyle, had plenty of speed but at times lacked the definition in drives to permeate the Pulse defence. Both Gia Abernethy and Taylor McKevitt turned over a lot of ball but equally made a number of unforced errors with a number of passes flying off the sideline. In an attempt to find some added energy in attack, Sirens brought on Emma Barrie at Goal Shooter at half time, a change which did not have the desired impact as she was outmuscled by eventual player of the match Lindsay Keable.
For Pulse, it was the second half of the match that really saw them take control. The trio of Keable, Fadoju and Everitt were ruthless in defence, with seventeen gains between them. Through court pressure resulted in both shooters also picking up two deflections each. It was a true statement of intent from the team who are very much looking like strong top four contenders this year.
London Pulse
Olivia Tchine 34/36 (94%)Sacha McDonald 9/11 (82%)Berri Neil 4/4 (100%)Kira Rothwell 1/1 (100%)TOTAL 48/52 (92%)
Feeds 43 (McDonald, Scholes 9)Gains 20 (Keable 7)Penalties 61 (Keable 15)
Strathclyde Sirens
Bethan Goodwin 13/16 (81%)Emma Barrie 13/16 (81%)Niamh McCall 12/20 (60%)TOTAL 38/52 (73%)
Feeds 48 (Abernethy 18)Gains 10 (McKevitt 3)Penalties 37 (Vinkhumob 9)
(Image: @teamtalkphotos)
---
(Team . Pld .Pts . +/-)
Thunder. 8 . 24 . +121Lightning. 7 . 21 . +105Pulse. 8 . 18 . +66Mavericks. 8 . 15 . +2–Bath. 8 . 12 . +32Rhinos. 7 . 12 . -41Storm. 8 . 9 . -26Wasps. 8 . 6 . -25Sirens. 8 . 6 . -45Stars. 8 . 3 . -87Dragons. 8 . 3 . -102
Round 9:
Fri 7:30pmSirens v DragonsSky (YouTube)Sat 4pmMavericks v RhinosSky (YouTube)Sat 5pmThunder v PulseSat 6pmStars v LightningSat 7pmWasps v BathMon 5:30pmStorm v WaspsSky
Hear from the players and coaches via our friends atThe Netball Show