"I could never do this with my clients," admits Atlanta designer Lauren Lowe, founder of Lauren Elaine Interiors. "But I asked myself what I could use from my old house—how quick and dirty can I do this? What can I do to make what I already have sing in a new house?"
What she had was an eclectic collection of contemporary art, traditional art, vintage furniture, and antique Persian rugs that she had purchased from the previous owners of her previous home. At the same time, she didn't want to "copy-paste a room from my old house."
As for the new abode, in the same neighborhood, it was "not cute, but it had the space we needed," she says of her growing young family. The previous owner of that house had seen her career take off so quickly that they never had time to properly decorate or even paint.
Painting was one of the first things Lowe did: "a lot of bright white." And she punched in windows—a trick she often uses—to bring in natural light. "I like bright natural light," she says. "I'm pretty traditional but I like it to feel clean and relevant."
Then she enlivened the spaces with layered colors and patterns and "workhorse antiques" that can "hold up to a clumsy husband and dinner parties and a three-year-old."
Tour the rest of the cozy Southern home below.
---
Living Room
Emily J Followill
This room is a kid-free zone where "mommy can have nice treasures" like seashells and antique boxes. But at the same time, she explains, she didn't want "a grandma's living room—it's more grandmillennial," she says with a laugh. "It's a revival of traditions," but the layering of vintage and contemporary items from her collection gives it a contemporary feel as well.
Drapery and sofa fabric: Jasper via Ainsworth Noah. Club chairs and cocktail table: Bungalow Classic.
---
Mud Room
Emily J Followill
The cute vestibule with a striped bulletin board closes to the foyer and the kitchen.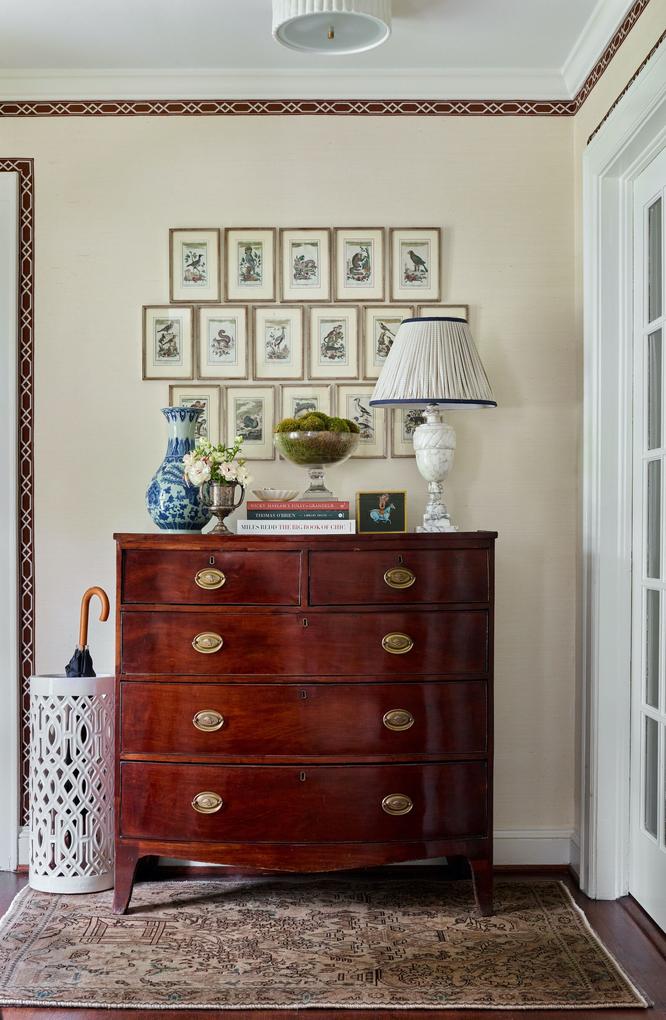 Bulletin board fabric: Schumacher. Bench cushion fabric: Ralph Lauren. Bench: Container Store
---
Kitchen
Emily J Followill
"The glass cabinets added storage in a sort of dressy form for the nice China." Lowe looked at 100 slabs for the Calacatta marble for the countertop—"I'm the pickiest client," she jokes. Then she added the green backsplash for something different.
Pendants: Jamb. Backsplash: Renaissance Kitchen & Bath. Oyster plates: Interiors Market.
---
Dining Room
Emily J Followill
This was a tricky one, because the room doesn't have any windows. Lowe compensated with "bright, fun wallpaper," a softer blue color and a brighter white on the walls. And because the house doesn't have a breakfast room, the dining room needs to work for all occasions. She can dress it up for entertaining and still subject it to daily use. "The chairs are from Home Depot so I'm okay with it if they get destroyed. The table will get a nice patina, and the rugs hide spills and things that happen with children."
Wallpaper: Custom colorway of Climbing Hydrangea by Quadrille. Art: William Skilling from Scott Antique Market. Lantern: Circa. Dining table: Chairish. Chairs: Home Depot.
---
Foyer
Emily J Followill
"It's very typical of houses in this neighborhood," she says, but she made it her own with heavily textured grasscloth and vintage animal engravings that another client had passed on.
Grasscloth: Thibaut. Brown trim tape: Schumacher. Framed animal engravings: Peachtree Battle Antiques. Rug: Keivan Woven Arts.
---
Primary Bedroom
Emily J Followill
The room had only one window, so Lowe had another punched in for symmetry and natural light. Other than that, she kept things simple. "I really like a simple white bedroom," she says, lightly pointing out one exception: a mirror with seashells that was a push present from her husband. "He hates it but I love them."
Bench and accent pillow fabric: Colefax & Fowler. Bed linens: Matouk via Gramercy Home.
---
Son's Bedroom
Emily J Followill
Along with a new "big boy bed" for her three-year-old son, Lowe reimagined the reimagined the bedroom with other "big boy things" like navy-and-white-striped bedding and block print on the sconce shades.
Wallpaper: Cole & Son. Woven bamboo shade: Blinds.com. Sconces: Circa covered in Peter Dunham fabric. Monogrammed shams: Southern Linen via Etsy.
---
Nursery
Emily J Followill
The designer used a minty green color palette for her young daughter's room. Specifically, she chose Celery by Ralph Lauren, a shade that she has loved since she and her mother picked it out for the family kitchen when she was in high school. She painted her room room this color, and also her first apartment. "There's something calming about this color that I just love." The other design hack in the room is the trundle bed, so that it can do double duty as a guest bedroom (with the baby in Lowe's room instead).
Trundle daybed: custom from Liven Up Design with fabric from Schumacher. Pillow shams and crib skirt: Biscuit Home. Drapery and throw pillow fabric: Colefax & Fowler. Rug: Mitchell Gold Bob Williams. Sconces: Circa. Chinoiserie chest: Chairish. Mirror: Bungalow Classic. Block printed frames: hand-painted by Taryn Schwartz.
---
Kids' Bathroom
Emily J Followill
The horse print is because Lowe has always loved horses. Many treasures and ideas from her own childhood found their way into her children's spaces.
Wallpaper: Schumacher. Mirror: Peachtree Battle Antiques. Shower curtain and towel: Southern Linen via Etsy. Sconce: Rejuvenation.
---
Backyard
Emily J Followill
They added the space and its copper lanterns so they would have a place for outdoor entertaining. (They closed on the house in early 2020 and knew early on that they would want to be outside as much as possible.)
Tablecloth: Marigold Living. Napkins: Pottery Barn. Glassware: Amanda Lindroth.
---
Follow House Beautiful on Instagram.